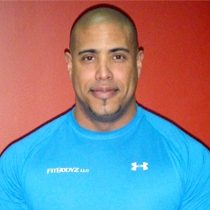 Aaron C.
Personal Trainer "CPT"
It didn't take much for Aaron Cobb to go from gym rat, amateur body builder and unofficial gym-wide mentor to a certified personal trainer. Today, he trains high profile clients and stay-at-home moms alike, along with beauty pageant contestants with an eye on the prize.
Aaron offers personalization, professionalism and results-driven fitness programs. Unlike some personal trainers with an uncompromising "drill instructor" persona, this Army veteran is the real deal. A master motivator, Aaron says, "My approach is one of 'can do.' I show you realistic goals and expectations, then I show you the roadmap. I provide purposeful direction and motivation to help get you where you want to be."
After a warm-up, Aaron advances his clients right into the kind of physical training that surprises the body, creating muscle tone, fat loss and head to toe health. No matter the focus, sessions are all about the client. "I might crack a couple of jokes to take their mind off the training," says Aaron. "Or I might remind them of the goal they set so they will give me 100 percent."
Training with Aaron is never easy or dull. "I am sometimes a drill instructor, coach, comic relief or whatever I need to be to help motivate my clients," he notes. Armed with clear goals and challenging strategies to achieve a healthy endgame, Aaron and his clients work as a unit to achieve results.
---
Professional License
ACE T156031
Certifications
American Council on Exercise (ACE)
Specialized Training
American Council on Exercise, Certified Personal Trainer, 2010
Blue Heron Academy, Certified Personal Trainer, 2007
PPCT Certified Instructor