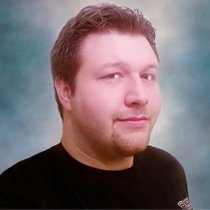 Richard J.
Massage Therapist "NCTMB"
"How nice would it be to stand up in the morning and not be in pain?" asks certified massage therapist Richard Jones. As he explains, therapeutic massage can help to achieve this and more.
Richard came to massage from a background in 3D animation. "Seeing the look on someone's face when they come in bent over at a 90-degree angle—and leave standing straight up—it's this feeling animation never gave me," he describes. "It is the reason I'm continuing my education and going toward physical therapy."
Under the supervision of a physician, he has worked with cancer patients, sports injury patients and clients with a variety of physical concerns, from scoliosis to frozen shoulder. Clients appreciate the fact that Richard is glad to work with them at their private homes. "Many of my clients have been unable to travel easily," he explains. "I found it best to simply work where they feel the most at ease."
Richard, a graduate of the Nevada School of Massage Therapy, aims to return clients to a balanced state of health—and to teach them how to stay there. As he puts it, "If I have a client that never returns because there isn't a need for me anymore, I've done my job."
What to Expect
Richard creates and applies a specially constructed massage program based on each client's individual needs. "No one person is the same, so why should everyone have the same massage?" he asks.
All bodywork sessions are specifically tailored to achieve a client's goals. Many sessions involve a combination of therapies, including range of motion and movement exercises, prepping the muscles for fitness, or simple relaxation.
---
Professional License
589144-10
Certifications
National Certification Board for Therapeutic Massage and Bodywork
Specialized Training
Nevada School of Massage Therapy, 2010
Nevada School of Massage Therapy, Master Bodyworker Course
Orthopedic: Arms and Shoulder, James Walaski