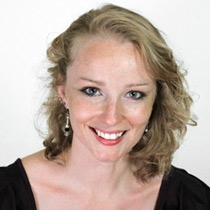 Hilary J.
Massage Therapist "LMT, MA"
Licensed massage therapist Hilary Jordan is unique in her approach to therapy. Rather than narrowly focus on her clients' kinks and knots, Hilary expands her treatment to include health education, a holistic psychological evaluation and even a manifestation session.
"The most important thing I teach my clients is that feeling, accepting and loving their emotions, without associating them with triggers, is necessary to curing physical disease," Hilary says. "Physical practices, like exercise and stretching are also important, as is herbal cleansing and nourishment. Emotional and creative expression and being open to the universe are essential."
Hilary's clients, in general young women with curious minds and sensitivity to energy work, appreciate her candid and personal philosophy. They come to her for 90-minute massages with therapeutic essential oils, but also to consult her on lifestyle choices and for emotional technique suggestions. Hilary, a self-described "born teacher," is happy to oblige. "I love it because it feels natural and easy for me," she says.
Like many human beings, Hilary's clients do get discouraged at times, but she motivates them by encouraging them to focus on their improvements and practice self-loving techniques and habits. "We all have trouble accepting ourselves for the gems that we really are, sometimes it's easier for an objective outsider to see the truth," she explains. "I try to be practical and focus on a couple of easy things that they can do to help themselves. There is something for everyone."
Though she's busy, Hilary never loses sight of why she chose this career path. "I was always good at seeing the unique beauty in each person, and I always liked creating something for people," she says. "I honestly enjoy what I do: nurturing people, being compassionate, challenging people to grow and using my intuition to feel out the mystery and the truth. My heart expands when people tell me I helped them. When they are grateful, I am grateful."
---
Professional License
586515-10
Certifications
Iowa Board of Massage Therapy Examiners
National Certification Board for Therapeutic Massage and Bodywork
Specialized Training
Guiding Light School of Massage
Just For Your Health Massage School, Swedish, Stretching and Reflexology, 2004
California College Of Ayurveda, Ayurvedic Lifestyle Consultant, 2004