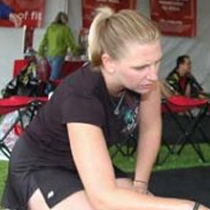 Bonni W.
Personal Trainer "CSCS"
Certified personal trainer Bonni Wildesen has a realistic approach to health and wellness. "The focus is education," she says. "I strive to make healthier choices easy to do; no pills, no shakes, no frills, no subscriptions! Just little changes, every day."
With a fun-loving attitude and her own radical lifestyle change to draw from, Bonni helps clients find practical ways to move past their unhealthy habits. She believes that bite-sized changes can make real, big differences, ultimately enabling her clients to make positive lifestyle adjustments that last.
One of Bonni's biggest advantages (and sources of motivation!) is that she knows what her clients are going through. Over 10 years ago, she too seriously changed her life by getting healthy and active. After losing more than 70 pounds through diet and exercise, Bonni decided to help others achieve results of an equally impressive nature.
"The small changes I made each week made a tremendous difference in my changing my lifestyle. I was so encouraged by the low-key, energetic and creative aspects of my trainer's programs," she explains. "It was easy to follow, less stressful than anything I'd ever tried before, and is the same plan I use to help my clients achieve their goals."
With accreditation by the National Academy of Sports Medicine, Bonni keeps clients interested and engaged by changing up the routine regularly. "If you look bored or mention not liking something, we switch it," she says. "Clients are given challenges that are realistic and achievable at each session. This helps them continuously progress and improve."
If there's one thing Bonni understands, it's how busy lifestyles can impede upon an individual's quest for health. Simply put, she tries to lighten the load. "Kids are always welcome to join us during our sessions for free!" she says. In addition, her dog, Morgan, is a "mascot" for many of her clients, and she has been known to use rocks, monkey bars and gallons of milk during her sessions. "I try to make healthier choices easier to do," she says. "It's off the wall sometimes, but always fun!"
---
Certifications
National Academy of Sports Medicine (NASM)