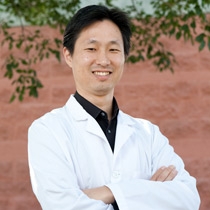 Jungkyo P.
Acupuncturist "LAc"
Licensed acupuncturist Jungkyo Park focuses on educating his clients about the powerful healing qualities of acupuncture and other Eastern modalities.
"Simply stated, acupuncture brings your body's natural systems back into balance," says Jungkyo. "Whether your imbalances result in chronic pain, poor digestion, lack of energy, infertility, anxiety or any other ailment caused by internal or external imbalance, acupuncture will restore these imbalances and improve your quality of life."
Jungkyo, a graduate of the Dungguk University in Los Angeles, successfully treated clients at the University of Southern California and the Samra Acupuncture Spinal Clinic. In his private practice, Jungkyo treats his clients with six traditional modalities of Oriental medicine: acupuncture, moxibustion, cupping, tai chi, qigong and herbal therapy.
Every session is tailored to the individual needs of his clients, but Jungkyo always incorporates advanced tai chi techniques. "I focus on the energy system encircling their bodies," Jungkyo explains. "And I teach my clients how to accumulate and cultivate 'qi' by learning a breathing method for relaxation, stress relief and physical comfort. Eventually they develop their own self-healing ability."
What to Expect
A first acupuncture session will begin with an in-depth assessment of the client's condition and an initial treatment. The intake and treatment may take up to 1.5 hours, although typical treatments last approximately 45 to 60 minutes. Jungkyo asks clients to arrive at the appointment in a relaxed state of mind, wearing loose, clean clothing, and that they bring the completed patient intake form, a list of current medications, and a driver's license or state I.D. card.
---
Professional License
AC14491
Certifications
California Acupuncture Board