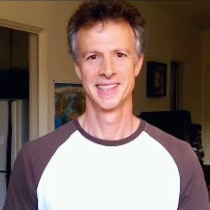 Eric N.
Personal Trainer "CPT"
A former massage therapist who kneaded away aches and pain, Eric Negri is now a certified personal trainer who focuses on helping clients feel greater, stronger, leaner and more confident at any age. In practice since 2004, he offers personalized in-home services to residents of Santa Clarita and the San Fernando Valley, Calif.
Active in athletics since grade school in The Valley, Eric is still a sports fanatic. Invigorated and thankful he can still share his passion for fitness, he enjoys helping others to cultivate a love of fitness too, whether or not they enjoyed exercise in the first place. Through sessions with him, Eric's clients learn to look forward to customized routines not only because of the benefits to their lives, but because Eric makes them fun.
Eric strives to make fitness convenient and affordable, holding sessions in homes, offices or local parks rather than commercial gyms. While he was previously affiliated with well-known gyms, he says he prefers working with clients where they feel more comfortable and relaxed. Seeing clients in their own environments also allows him to understand their particular lifestyles, which he incorporates into each workout program. Sessions are always designed to be safe yet effective and focused on achieving goals.
Eric works with clients with all sorts of needs. Some may require workouts tailored to specific rehabilitation requirements, such as hip replacements and other injuries, while others are geared toward strength conditioning or weight loss. "I am thankful I can help clients be true to themselves, be dedicated to fitness and to feel comfortable and confident in their body," he says.
As part of his services, Eric offers nutritional advice and social support. He also wants each client to understand the importance of consistency and accountability. "This is where health habits are formed. This is where results begin and are built upon," says Eric.
---
Professional License
NASM #158453
Certifications
American Council on Exercise (ACE)
National Academy of Sports Medicine (NASM)
National Exercise & Sports Trainers Association (NESTA)