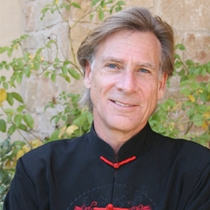 Clayton W.
Acupuncturist "LAc"
Over the years, Clayton Woolley has seen many clients who are "sick and tired of being sick and tired"—going from one doctor to the next yet still putting up with chronic or acute pain with no end in sight.
Clayton, a licensed acupuncturist in Carlsbad, Calif., has been providing natural remedy relief since 1991, with clients seeing actual results from treatment.
A former film editor, Clayton used to be afraid of needles and understands those clients who fear them too. After a paragliding accident left him with a broken ankle, he sought alternative health providers for his pain, frightened and anxious yet needing help with healing.
Within a few sessions, Clayton's fear of needles had dissipated and he realized a new career. He ditched the Hollywood life and went on to study at the Academy of Chinese Culture & Health Sciences, earning a master's degree in Traditional Chinese Medicine.
Clayton has successfully worked with hundreds of patients since 1991, treating a variety of ailments, disorders and conditions. "I've pretty much treated everything," he says confidently, chronic pain, allergies, asthma and headaches included.
As an instructor of qi gong and tai chi quan, Clayton has taught many students the art of breathing and quieting the mind. In addition to his acupuncture practice, Clayton has served as an acupuncturist trainer for numerous sports teams, from football to water polo.
---
Professional License
AC6138