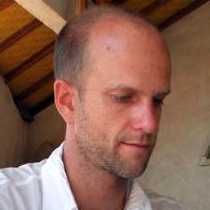 David M.
Structural Integration Professional
David Murphy's beautiful, light-filled studio is only one of the reasons clients flock to him. The real allure is his personal approach to structural integration therapy, which incorporates dialogue and movement education for a unique and effective experience.
"I continue to be fascinated by the human body, and I am always looking for ways to deepen my understanding of the human experience," says this certified structural integration and Hellerwork specialist.
David first became interested in structural integration when his back was injured in a skateboarding accident. After a year of debilitating back pain, he sought out a Hellerwork practitioner to address his recurring discomfort.
In the tradition of Ida P. Rolf's original structural integration methods, Joseph Heller devised a powerful system of somatic education and structural bodywork, based on the inseparability of mind, body and spirit. After only one session, David describes how this focused modality allowed him to address his limp and significantly reduce his pain.
David decided to turn his new-found passion into a career. He studied at the Institute of Structural Medicine in Washington before establishing his own practice in Manhattan.
"Since my initial training, I have expanded the scope of my work into the deeper structures of the body through continued training in the osteopathic techniques of visceral manipulation and CranialSacral Therapy," David says. "I am also a certified somatic experiencing practitioner, a body centered therapy for working with post traumatic stress and shock trauma."
Studying under some of the great masters of his profession, David says he is grateful to have trained with some of the most brilliant Rolfers, body-centered psychotherapists, and movement educators in New York and around the world. "I don't know of anyone in New York who is combining movement education, dialogue, and structural integration in such a unique and integrated way!" he says.
What to Expect
Before the initial session, David will discuss the client's health history and goals for therapy. He will perform a clinical assessment of their posture and movement, and then customize a treatment plan. Bodywork is not massage; some of the treatment will happen on a massage table, but at times clients will use a bench or be asked to perform various yoga-like stretches. David encourages communication at any time and welcomes client feedback.
---
Specialized Training
Institute of Structural Medicine, Structural Medicine Practitioner and Hellerwork Practitioner, 2002
International Association of Structural Integration, Board Certified Structural Integration Practitioner, 2005
Foundation For Human Enrichment, Somatic Experiencing Practitioner, 2006