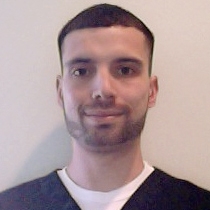 Chris M.
Acupuncturist "MS, LAc, LMT"
"Acupuncture is a powerful tool—when applied right," says licensed acupuncturist and licensed massage therapist Chris Miranda, a highly trained practitioner with a practice located in Franklin Square, N.Y.
Chris enjoys knowing that he is able to help his patients—even those who have tried countless other therapies—to improve their health and well-being while eliminating existing pain or dysfunctions. "What I like most about the work I am doing is that it works!" he says.
While Chris' expertise enables him to provide quality treatments on a daily basis, it's his desire to keep patients in the know that facilitates a trusting relationship and encourages them to return. "I motivate my patients my keeping them involved in the treatments," he says. "The treatment does not end one they leave the treatment room; I send them home with exercises and stretching techniques."
Chris assigns DIY therapies for his clients to perform after their treatment because, as he puts it, "I can only do so much in a scheduled period of time. I want to give people a sense of control," he says, suggesting that lasting health requires self-care as much as the care of a health and wellness practitioner like himself.
Chris' own journey as a wellness practitioner was born out of a love and respect for the martial arts. Studying as both a child and an adult, he has long relied on alternative therapies in order to prevent injuries and maintain his own health. With a passion for Eastern culture and philosophy, Chris enrolled in dual programs at the New York College of Health Professions in 2004, studying massage and acupuncture. Today, he is licensed in each modality and is a teacher's aid at his alma mater.
---
Professional License
NYS License 020604 NY AC 25 004337
Certifications
New York State Board of Massage Therapy
New York Division of Professional Licensing Services
Specialized Training
New York College of Health Professions