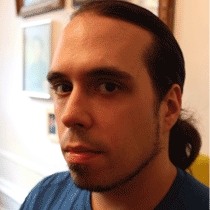 Demetri T.
Massage Therapist "LMT"
Demetri Travlos is a licensed massage therapist based out of Washington Heights Manhattan, NY. He has worked in a wide variety of settings, including physical therapy clinics, fitness clubs, and some of the finest spas in NYC.
Licensed massage therapist Demetri brings all of his knowledge together to create a unique experience for his clients. Since graduating he has worked at Bliss Spa, Equinox, and the Faina European Day Spa. He has honed his techniques by working with a multitude of ddifferent clients, so he understands how to customize a session to a persons needs whether it be a athlete, a musician, or personal trainer. Demetri is more than happy to provide posture re-education and exercise advice to help continue the holistic process of healing and bringing the client one step closer to better health. He is well versed in Shiatsu, Prenatal, Sports, Myofascial, Swedish, and more.
---
Professional License
NYS license 025017
Certifications
New York State Board of Massage Therapy
Specialized Training
The Swedish Institute College of Health Sciences, 2010 (New York, NY)
Current & Previous Employers
Bliss Spa, The Spa at Equinox, Faina European Day Spa