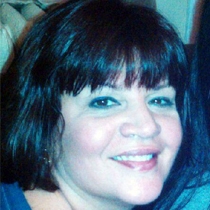 Esther P.
Massage Therapist
In practice since '99, Esther Pagan uses her talents and expertise to bring healing and relaxation to clients in her Manhattan office during the week. On the weekend, she travels to her clients' homes in the Bronx, Yonkers, Westchester and Long Island. "I love the healing work that I do," she says.
Esther's experiences run the gamut, from physician's offices and specialty spas to gyms and private clubs. She has worked with high-end and celebrity personalities and demonstrates a passion for health, healing and that "beautiful phenomena called the human body."
A graduate of the Swedish Institute—the Harvard of massage therapy training programs—Esther continues to hone her skills as a bodyworker, which allows her to focus on a combination of massage modalities. "I let my hands access the body's needs," she says. "Then I administer the modality."
Intuitive and thorough, Esther allows her hands to "do the walking," as she scans the body for adhesions, blockages and imbalances. "I then apply the coordinating specialty to the affected area," she says. "I love the work that I do and believe in patient care."
After graduating from the Swedish Institute, Esther's curiosity with the human body inspired her to work closely with physicians in the aesthetic and cosmetic surgery fields. She has trained in LaStone Deep Tissue Technique with Bruce Baltz and, as an artist, has incorporated semi-precious stones into her practice.
Esther's training extends beyond the U.S. borders, and has taken her to Chiang Mai, Thailand to learn Thai Massage. The experience is one that she found spiritual and enlightening, and she brings this education to her practice today.
---
Specialized Training
Swedish Institute, New York, NY, 1999
Robert Fiance Design Institute, Licensed Cosmetologist, New York, NY, 1982
Wood Hygienic Institute, Colonics Therapy, Kissimee, FL, 2008
Mandl School, Phlebotomy and EKG, New York, NY, 2005
Swedish Institute, Trigger Point, Deep Tissue and Joint Mobilization Therapy 1 and 2, New York, NY, 2005
The Fine Art of Thai Massage, Thai Massage 1 and 2, Chiang Mai, Thailand, 2003
NY Memorial Sloan Kettering Cancer Center, Medical Massage for Cancer Patients, New York, NY, 2003
Original LaStone Therapy, Deep Tissue Stone Therapy, New York, NY, 2002
Usui Shiki Ryoho, Reiki Level 1, New York, NY
LPG USA, Endermology, 1998
Diane Rooney, Reflexology, 1998
Upledger Institute, Lymphatic Drainage, Boston, MA, 1998