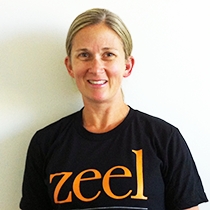 Susan E.
Massage Therapist "CMT"
---
Certified massage therapist Susan Eshed believes in the healing powers of massage, yoga and holistic nutrition. She is committed to sharing her knowledge with her clients, who appreciate her wide range of expertise.
"I am very intuitive when it comes to bodywork," says Susan. "I have a background in yoga, and Thai massage comes naturally to me. But my expertise is Swedish, deep tissue and prenatal massage."
Susan, a California State certified massage therapist since 2006, is also a certified yoga instructor and is studying to become a holistic health coach at the Institute for Integrative Nutrition. Her desire to pursue a career in the alternative health and wellness field was sparked during her childhood in fast-paced Studio City, Calif. "I had stomach issues and allergies and anxiety. I was always going to the doctor," Susan remembers. "I said to myself, when I get old enough, I'm going to learn about holistic health care and heal myself."
Now, Susan heals others. The majority of her clients come to her with lower back, shoulder or neck tension. She teaches her clients the importance of stretching and hydration, especially if their job requires them to spend a lot of time sitting down. "You can't just sit at your desk like a robot," Susan cautions.
Currently Susan offers outcall services in clients' homes or offices. All she requires is a relaxing space free from interruptions. She provides all the necessary equipment, including pure essential oils. "I love seeing people feel better," Susan says. "I always knew that one day I would help others find balance and feel better, naturally."