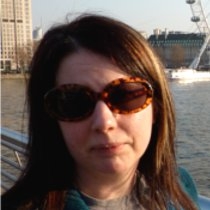 Barbara Lynn C.
Esthetician
Make city life pleasant with aesthetician Barbara Lynn Cantone, who practices wellness therapies that balance the skin, strengthen the immune system and focus the mind.
Barbara Lynn is the president of Body & Soul Restorations Inc. in Long Island City, N.Y. She began the company after 15 years in the publishing and not-for-profit worlds, where she experienced what lengthy hours at work, persistent stress and the relentless strains of urban living can do to unbalance both the body and the mind.
Barbara Lynn's response to this imbalance was to create a private treatment room in Long Island City where fatigued New Yorkers can recover personal strength and vitality through wellness therapies that she says, "make city life livable."
As Barbara Lynn explains, our skin is a mirror of everything going on within us: age, diet, fitness, stress and environment are all direct contributors to the health and appearance of our complexion. This is why she approaches skin care holistically, taking each client's lifestyle into account when treating and prescribing an at-home routine.
Each session begins with a thorough intake process that allows Barbara Lynn to determine a customized course of treatment. The client is then centered and prepared for the session using an appropriate aromatherapy blend. In a typical session, this is followed by cleansing, exfoliation (with steam when appropriate), extractions as necessary, relevant massage (face, neck, shoulders, arms and hands), masque, serum, moisturization and SPF. Following the session, Barbara Lynn emails each client with a suggested routine for at-home care and maintenance.
---
Specialized Training
International Dermal Institute, 2011
Aveda New York Institute, 2007
Lymphatic Drainage, 2009
LaStone Therapy, 2008