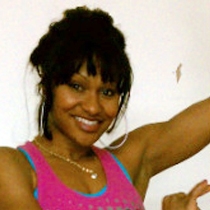 Marie G.
Personal Trainer "CPT"
Owner of Body thru Movement in the Berkshires and Capital regions of New York, Marie Georgefils looks forward to helping all of her clients, from athletes and stay-at-home moms to adolescents and young professionals, reach their full physical potential.
Internationally accredited by the AAAI/ISMA (American Aerobic Association International/International Sports Medicine Association), Marie has been a certified personal trainer as well as a Zumba and hip hop dance instructor since 2009. At Body thru Movement, she works with clients looking to increase their strength and improve their overall health.
Marie was the former head trainer for a premier sports camp, and has experience tailoring workout programs that fit individual lifestyles. Her focus is on effective, functional methods, designed to meet individual needs for physical wellness in an efficient and sustainable manner.
---
Specialized Training
American Aerobic Association International (AAAI)
International Sports Medicine Association (ISMA)
Zumba, Certified Instructor
STRIDE Certification, Hip Hop
Aerobics and Fitness Association of America (AFAA), Group Exercise Certification