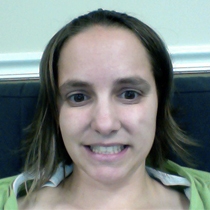 Melanie J.
Massage Therapist "LMT"
---
"As a massage therapist it's my intention to help my clients feel happier, healthier and more rejuvenated," says licensed massage therapist Melanie Jones. "I want to provide them with a sense of well-being and balance."
Melanie, who has been practicing massage for over three years, incorporates advanced massage techniques into each session in order to address individual needs and help her clients relax while relieving stress and physical discomfort.
"I encourage open communication with my clients for their safety and comfort," Melanie says. "My number one priority is that they leave feeling better than when they came in."
Melanie specializes in Swedish massage to treat back and neck conditions, as well as reflexology for the feet. She also offers Raindrop Therapy, which she says can treat spinal issues and aid in achieving overall health.
Melanie began honing her bodywork skills at a young age, massaging family members' feet and backs. As an adult, her husband encouraged her to pursue a career in bodywork. "I'm so thankful that he did, and I loved every minute of massage school," Melanie says. "And now I like having the opportunity to help others."