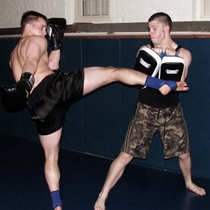 Michael S.
Personal Trainer "CPT"
Michael Schletter's enthusiasm for exercise is unbridled; the topic is always on his mind as he reads and researches the subject on a daily basis.
Clients seek out this certified personal trainer's high-intensity interval training and athletic development techniques. Based in New York City, Michael started his career in fitness with the goal of training high-level athletes. While an undergraduate research assistant in the University of Connecticut's Human Performance Laboratory, he was invited to assist in the design and implementation of strength and conditioning programs for the university's sports teams.
Over time, Michael has found working with everyday clients to be incredibly rewarding and intellectually stimulating. Rather than continuing to pursue elite athletes, he shifted gears and began to focus on the general population instead. Many clients need assistance with strength training after rehabilitation, while others are looking for help with weight loss or sport-specific conditioning.
Quick to discuss exercise with clients, Michael prides himself on his honesty and avoids sugar-coating the truth at all costs. For example, there is no such thing as "spot reducing," nor will doing a million crunches flatten your stomach. He will, however, happily explain what exercises do for the body and what purpose they serve.
Well-versed in several martial art forms, Michael is also a kickboxing instructor. He prefers to "train movements as opposed to body parts," and adds that, "Total body health and wellness is not just a complete exercise program—it is an exercise program combined with a healthy diet and a positive mindset."
---
Certifications
National Strength and Conditioning Association (NSCA)
Specialized Training
Evolution Muay Thai, New York, NY