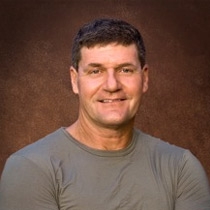 Garry K.
Personal Trainer "CPT"
Certified personal trainer Garry King provides no-nonsense wellness programs to clients seeking balanced nutrition and fitness training.
As a former body-builder and US Army Sargent, Garry is no stranger to tough love. But in his personal training practice his focus is on positive motivation and the development of new, healthy habits.
"I'm deeply committed to my clients' well-being," says Garry. "I teach and deliver proper, well-balanced sessions that will help clients realize fitness goals and master the tools for optimal physical performance."
Garry provides all the necessary equipment to help his clients reach top shape in the comfort of their own home or gym. His routines always remain "within the parameters of a client's lifestyle" but may include advanced methods such as TRX suspension and physio-ball training. Using these time-tested techniques, Garry is proud to say that since 1985 he's been "changing customer's lives, one body at a time."
---
Professional License
NASM 2984716
Certifications
National Academy of Sports Medicine (NASM)