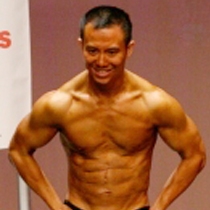 Al C.
Personal Trainer "CPT"
"The most important thing I teach my clients is that through basic strength training, diet and discipline, they can achieve their goals within the boundaries of their genetic limitations," says Al Chu, certified personal trainer, author, and 2011 New York Men's Masters Bodybuilding Champion.
"No matter how little or how much they know when they start training with me, my clients learn new ways to increase their gains and their confidence," he adds.
Al, who has trained at New York Sports Clubs, the New York Health & Racket Club, and the Vanderbilt YMCA, is available for personal training sessions in client homes in Queens and Manhattan. Al says his clients are the typical, average individual, ready to embark on a committed, structured program of exercise and healthy eating. "My clients are goal-oriented," Al explains. "I help them train for and reach those goals within a reasonable period of time."
Since the age of 15, when Al first began strength training and body building, he has enjoyed sharing his knowledge and experience with others. In his current practice, Al deviates from the mainstream approach to fitness by emphasizing progressive resistance strength training for every goal, including fat loss, toning, increased energy, strength and power, and elevated endurance and functionality.
"I always feel great when my clients show progress and achieve their goals!" says Al.
What to Expect
A typical session includes a pre-planned, individualized, written workout that begins with a brief warm-up, then cardio, strength-training, and stretching to cool down. Al provides bi-weekly physique assessments, as well as strength gains and mirror images, which serve as objective measures to motivate clients. In addition, Al offers encouragement, advice and support as needed to sustain and enhance client progress.
---
Certifications
American Council on Exercise (ACE)