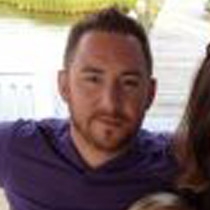 Charles S.
Acupuncturist "Dipl Ac, LAc"
At AcuMediZen, founder and New York State licensed acupuncturist Charles Sylvester takes "a modern approach to ancient healing methods."
Charlie is a graduate of Bastyr University in Kenmore, Wash., where he earned a master of science degree in acupuncture. He has experience in a variety of areas, including AIDS/HIV, pain and stress management, chronic fatigue, fibromyalgia and more, and has worked with patients of all ages, from children to adults.
At AcuMediZen, Charlie is dedicated to meeting his patients' needs for greater health and well-being. Patients are treated to personalized care, through which Charlie helps them to identify specific imbalances and determine the best solutions for existing conditions and concerns.
Charlie recognizes that each patient he works with deserves a tailored approach. State-of-the-art tools and Charlie's vast knowledge of acupuncture and Oriental medicine enable patients to make the necessary changes to achieve the ultimate goal of a "happy, healthy and prosperous life."
---
Professional License
004770
Certifications
National Certification Commission for Acupuncture and Oriental Medicine