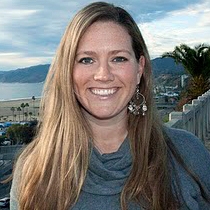 Brigita S.
Acupuncturist "LAc"
Some days seem like you are swimming against the tide, while others appear to be going with the flow. Brigita Slekys, owner of Heavenly Tides in Santa Monica, Calif., wants clients to work with the ebbs and flows by staying in balance.
In addition to acupuncture, Brigita offers cupping, tui na (a form of Chinese bodywork) and the application of herbs. To this licensed acupuncturist, diet, lifestyle, and such complementary therapeutic treatments all contribute to a healthy, balanced being.
Brigita comes from a background in modern medicine. After earning a bachelor's degree in kinesiology from the University of Maryland, she began her career working in post-operative care. As time went on, she decided to shift her focus to holistic healing, pursuing a master's degree in acupuncture from Bastyr University and studying abroad at hospitals in China.
Brigita's clients come to her for help with a host of ailments, ranging from stress related conditions to digestive problems and fatigue. She specializes in pain management and orthopedics, also offering treatment for stress relief, fertility issues, headaches and anti-aging.
Philosophy
"Sometimes the smallest changes in our lifestyles can make all the difference in our health and attitude."
---
Professional License
Ac 10834
Certifications
National Certification Commission for Acupuncture and Oriental Medicine
Specialized Training
Shanghai University of Chinese Medicine, China, 2004