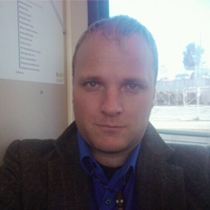 Christopher B.
Acupuncturist "LAc, MSAOM"
Christopher Bonnichsen believes that healing is something that must be learned by both patients and practitioners alike. With an interest in neurological disorders like fibromyalgia, phantom pain and any discomfort that may be detracting from a patient's quality of life, Christopher is extensively trained in Chinese dietary theory and enjoys using food as a primary healing supplement.
"Be what you are." That's the underlying philosophy behind Christopher's practice, because whether suffering is created in the exterior or the interior, it is still ultimately suffering. "I help you understand that it is a choice to remain where you are in your suffering," says Christopher. "This is how we go from enduring our suffering to unlocking and relieving our suffering."
Fortunately, Christopher stands by the notion that, "Humans have the capacity for change." He adds that, in order to facilitate this change, he works with patients and listens to their needs, their experiences and their self-perceptions, and then helps guide them to make the right choices for personal healing and self-evolution.
Christopher aims to offer all of his patients a "safe and supportive healing environment" conducive to healing and health. Among the many benefits of acupuncture and alternative therapies, patients report a reduction of symptoms, increase in energy and an improved sense of balance and well-being. This in turn creates a Domino effect of sorts; "As healing occurs, patients often notice changes across many areas of their lives," he says.
When working with Christopher, patients are encouraged to play a significant role in their treatment, becoming "active partners" in the process. To best treat each patient, he "carefully and deeply listens" to their needs, intentions and goals, and then guides them to health. "Most patients notice changes in a brief period, but of course, chronic conditions take longer, as layers of imbalance are gently addressed," he says.
With personal experience in the healing powers of alternative medicine, Christopher, both compassionate and empathetic, is now passionate about spreading the message of health. He places value on the importance of community, "celebrates diversity and connectedness," and embraces patients from all walks of life "with enthusiasm, attentiveness and great interest."
---
Professional License
28408
Certifications
National Certification Commission for Acupuncture and Oriental Medicine
Oregon Board of Medical Examiners