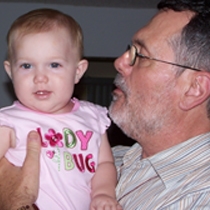 George E.
Acupuncturist "LAc, LMT"
A licensed massage therapist and acupuncturist with more than 35 years of experience as a holistic health care practitioner, George Engelhard has a reputation for providing the residents of Orlando with "the best treatments they ever had."
George, who has performed more than 13,000 massages over the course of his career, is an innovator in the field of alternative therapies. Not only does he offer traditional and advanced bodywork modalities, including Swedish massage, reflexology and trigger point therapy, but he also developed his own methods in order to, "bring deep levels of relaxation and rehabilitation in a remarkably short period of time."
A recent addition to his thriving practice, George is an expert in Chinese Medicine and offers acupuncture, Chinese herbal medication and homeopathy. He is a sports performance and rehabilitation specialist, his treatments which have been known to help clients enhance their athletic performance while preventing future injuries.
---
Professional License
Massage: MA 3008
Acupuncture: AP3071
Certifications
Florida Board of Massage Therapy
Florida Board of Acupuncture