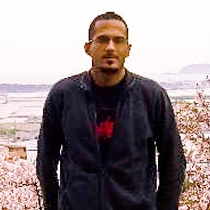 Ed A.
Acupuncturist "LAc"
Licensed acupuncturist Ed Alvarez is dedicated to helping clients facilitate the movement of qi throughout their bodies in order to heal from injury and treat a variety of mental and physical disorders.
"I originally got involved with Oriental medicine through Tai Ji Chuan," Ed recalls. "As I went deeper into the exercises a new world opened up for me."
Ed, a graduate of the Pacific College of Oriental Medicine, specializes in treating musculoskeletal trauma, gastrointestinal disorders, hypertension, smoking cessation and weight management. He uses Traditional Chinese Medicine techniques, including cupping, moxibustion and tui na massage—skills that were cultivated through his studies in both Korea and Japan.
The majority of Ed's clients are athletes seeking relief from pain and injuries. Each session is tailored to the client's specific needs, and Chinese herbs or supplements may be recommended. Ed encourages his clients to participate in their own healing by acknowledging that rest and recuperation are a necessary part of the process.
An initial consultation with Ed includes muscle testing or palpation on areas of pain or injury. Treatment is based on facilitating the movement of qi—the body's natural energy. "Pain and discomfort arise through the blockage of qi movement in the body. When there is little or no movement of qi, disease, discomfort and pain arise," Ed explains. "I will treat the imbalances and symptoms as well as the root causes."
---
Professional License
Illinois License 198.000.828
Certifications
National Certification Commission for Acupuncture and Oriental Medicine
Illinois Department of Professional Regulation
Specialized Training
Kang Tai Acupuncture and Herbs, 2003