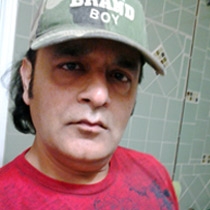 Jimmy Satish C.
Massage Therapist "LMT"
Globally trained licensed massage therapist Jimmy Satish Chandnani says his passion for his profession is ultimately rooted in his ability to bring joy into his clients' lives.
"I enjoy massage because, most of the time, the session ends with my client smiling," says Jimmy. "They are relaxed and pain-free. This is a no-complaints profession."
Jimmy, a graduate of the Academy of Health Professions, has been a practicing therapist for over 15 years. He is skilled in over 30 massage modalities, many of which were learned during his extensive period of travel and study in India, Australia and South Africa. Jimmy speaks several languages, including English, Hindi, Marati, Guajarati, Sindhi and Punjabi.
In his practice, Jimmy treats a wide variety of professional and athletic clientele. He educates each one on correct body mechanics, stretching, exercise, nutrition and the importance of sleep. When asked what sets him apart from other therapists, Jimmy replies: "The difference is I love what I do."
Jimmy makes an effort to transmit this sense of enjoyment to his clients. "I tell them that their bodies, minds and souls all need recharging. Massage is the perfect alternative therapy to achieve holistic, therapeutic results," he says. "My clients walk away ready to get active in their lives."
---
Professional License
MT 047793
Certifications
Texas Department of Licensing and Regulation
Specialized Training
Academy of Health Professions, Massage Therapy, 1985