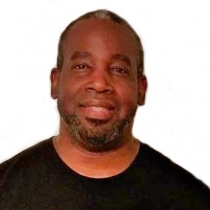 Hubert H.
Massage Therapist "LMT"
Nothing undoes the benefits of a massage like sitting behind the wheel only moments after the session ends. Licensed massage therapist Hubert Holtzclaw nips this problem in the bud, and says, "I am mobile and bring the massage to you, the client."
Since first beginning to practice massage therapy (he kicked off his business working out of his home, but now offers mobile services), Hubert has acquired a wealth of knowledge in treating various aches and ailments. Clients, who range from professional bodybuilders, marathoners, distance runners, CrossFit fanatics and multi-sport athletes to family, friends and couch potatoes, express equally varied conditions—severe migraines, osteoarthritis and rotator cuff damage as well as hip-flexor pain and general stiffness, soreness and anxiety included.
In order to customize a session to the client's individual needs, Hubert believes that it is important to connect with a client, "developing an understanding of how massage can enhance their health and positively affect their condition." Above all, he is careful to treat not only the individual complaint but the person as a whole, sharing his insights on how to attain total body health.
Education is at the forefront of a session with Hubert, who believes that knowledge is powerful indeed. "I keep my clients encouraged by continually sharing knowledge with them about massage therapy and the techniques that can and may help them with their issue at home and during the session," he says. "Sharing knowledge and experiences with trainers, coaches, chiropractors and doctors is extremely beneficial to me and the long-term health of my clients."
---
Professional License
MA: License 9338
Certifications
Massachusetts Board of Registration of Massage Therapy
Specialized Training
The Salter School, Malden, MA (2010)
Current & Previous Employers
Eclipse Mobile Massage (Boston, MA); NB Fitness Club (Brighton, MA); Elements (Brookline, MA)