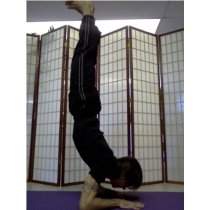 Jay F.
Massage Therapist "CPT, LMT"
Don't underestimate yourself. "The most important thing a client will learn from me," says Mayur Yoga owner Jay Farmer, "is that they can do more to help their bodies than I can. And I can do a lot!"
Jay is a certified personal trainer, a registered yoga instructor and a licensed massage therapist who helps the residents of Jacksonville, Fla. to find balance and health through a combination of all three. "With my unique background and combination of skills, I can help you achieve optimal health and wellness," he says. Jay utilizes a comprehensive blend of hands-on massage and manipulation as well as healing via yoga, tai chi, modern exercise techniques and more.
As an expert yogi, Jay incorporates principles from many different styles of this ancient art, including Anusara, Ashtanga, Kundalini, Yantra and others. Never one to settle for a single approach, he also incorporates elements of Asian posture and movement practices such as tai chi, qigong, makko-ho and meditation.
A graduate of Health, Wellness & Fitness Inc. and 2 Suns Rising School of Yoga, Jay's training methods are as varied as his yoga practice, and focus on the four primary components of fitness: strength, endurance, flexibility and balance. Above all, he seeks to create a highly individualized experience—one that puts the "personal" back in personal training.
---
Professional License
NCBTM #608048-11
MA #66456
Certifications
Florida Board of Massage Therapy
National Certification Board for Therapeutic Massage and Bodywork
Yoga Alliance Registered Yoga Teacher
Specialized Training
2 Suns Rising School of Yoga, Registered Yoga Instructor
Health, Wellness & Fitness Inc., Certified Personal Trainer