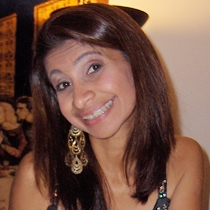 Rupa S.
Massage Therapist "CMT"
Rupa Schodowski believes so strongly in the healing powers of massage, that when her mother was diagnosed with a brain aneurysm, Rupa insisted she try massage instead of a dangerous and costly surgical procedure. "Within one week, the aneurysm had shrunk!" she says.
Rupa is a graduate of the Center of Healing Arts' 750-hour massage therapy program and specializes in prenatal and geriatric massage. She owns her own studio/salon in Shelby Township, Mich. The studio is relaxing and inviting, and equipped with strong, comfortable massage tables, a step stool for clients with knee issues, large pillows, an elevator, and ample free parking. Rupa even makes her own organic lotions and oils to use during sessions.
In addition to her massage services, Rupa also teaches her clients how they can best continue the healing process at home. "I encourage them to exercise regularly and eat healthy foods," she says. "And I go to seminars and classes to learn new information I can pass on to my clients. I try to help them realize what their goals are, and the steps they should take to achieve their desired results."Rupa says her motivation to pursue a career in wellness stems from a genuine love of people, a hunger to help others, and the satisfaction she feels when she sees her clients living independently, free of aches or pains.
---
Professional License
ABMP 962044
Specialized Training
Center of Healing Arts, Massage Therapy Program, Sterling Heights, MI, 2010