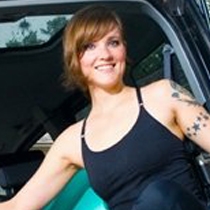 Stephanie P.
Personal Trainer "CPT"
Major lifestyle changes don't just happen over night. That's why clients who have a lot of weight to lose (between 30 and 50 pounds) seek the help of Stephanie Pugh, a certified personal trainer with more than eight years of experience in the fitness industry.
As the former owner of Venus Envy Training and the current owner of Form Fitness Austin, Stephanie builds workouts programs for her clients that are decidedly "safe, smart and sustainable." Her focus is to achieve weight loss goals using an evidence-based approach. As Stephanie puts it, that means, "No buzzwords, no celebrity workouts, no quackery, and no B.S."
Stephanie received her personal training certification through the Cooper Institute and is a member of the IDEA Health and Fitness Association. Beyond the realm of weight loss alone, many of her clients realize that, through fitness, it may be possible to reduce or eliminate prescription medications for the treatment of type II diabetes, hypertension and high cholesterol.
---
Certifications
The Cooper Institute