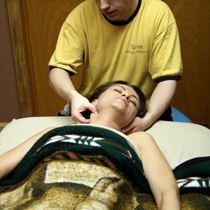 Kevin H.
Massage Therapist "CNMT"
At his NeuroMuscular Junction Wellness Center in Plymouth, Mich., Kevin Howley helps clients heal—and teaches them to heal themselves.
With Kevin's guidance and expertise in neuromuscular therapy, clients participate in their own healing process by learning body awareness and performing self-care techniques.
"I don't just rub on you to try to fix you," he says. "I educate my clients about how certain things affect their stress and pain levels and teach self-care methods so they can take an active role in their own health and wellness."
In practice as a certified massage therapist since 2005, Kevin takes a comprehensive approach to health, wellness, injury prevention and rehabilitation. Kevin, who graduated with honors from the Ann Arbor Institute of Massage Therapy in March 2005, holds certifications in neuromuscular therapy and myofascial massage.
The massage therapist looks at many factors in each client's life to determine what may be contributing to the individual's problems. Kevin offers neuromuscular therapy, a method that focuses on locating improper structural and biomechanical patterns in the client's body. Once Kevin finds these patterns, he designs a comprehensive program to guide the client through rehabilitation.
Postural Assessment
In March 2010 Kevin began offering his clients a new protocol for postural assessment using a postural analysis grid chart. By taking photos of the client in front of this grid to show any distortion in the body, Kevin is better able to determine which muscles and areas of the body will need specific manual therapy, stretching or strengthening.
---
Specialized Training
Ann Arbor Institute of Massage Therapy, 2005
Certified in Neuro-Muscular Therapy I, II & III, 2004-2005
Certified in Myofascial Therapy I, II & III, 2004-2005
Certified in Neuromuscular Therapy IV, 2008
Training in Active Isolated Stretching/Strengthening, 2008