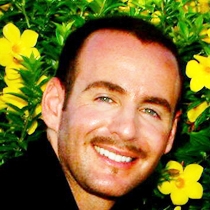 Dustin S.
Acupuncturist "Dipl Ac, LAc"
Dustin Siena is a second-generation practitioner of Eastern medicine and acupuncture. His desire to open your heart through a variety of techniques will provide you with exactly the kind of pain-free existence you've been seeking.
Dustin didn't always want to follow in his father's footsteps. As a child, he received his SAG card for work in commercials, and went to school to become a writer and director, with dreams of becoming the next Francis Ford Coppola. It was his realization that his desire to "create stories that opened the heart" could be achieved through the art of acupuncture that took him out of film and into his father's world: the world of Chinese medicine.
Now, having practiced acupuncture and herbal medicine for over 10 years, Dustin's motivation comes from his inner passion and love of Eastern medicine and the earth. A typical session will begin with a pulse reading that helps reveal the integrity of your internal organs and their respective vitality or deficiency.
The acupuncture treatment comes next, which will address your individual body, spirit and constitution. During many sessions, Eastern philosophy is discussed as well as other integral lifestyle habits that optimize your acupuncture treatments, such as diet and herbal remedies.
For Dustin, acupuncture is a practice of connections, whether done verbally or through the therapy. After someone feels his or her first energetic revelation from an acupuncture treatment, it's an aha, cathartic-like moment from which there is no turning back.
---
Certifications
National Certification Commission for Acupuncture and Oriental Medicine
Specialized Training
National Certification Commission for Acupuncture and Oriental Medicine, 2000 (United States)
Basic Pharmacology, AstraZeneca Institute, 2007
Tawain Style Herbal Formula Methods, Jimmy Chang, 2005
Herbal Extraction Methods, Michael Tierra, OMD, 2003
Richard Tan, Master Tong Lineage System of Acupuncture, 2001
Swedish Institute, Jeffrey Yuen, 2001
Li Chun Huang, Auriculotherapy, 2000
Ron Teagarden Herbal Emporium, Tonic Herbalism, 1998-2001
Advanced Pulse Diagnosis, William Morris (Hammer System), 1998
Yang Style Herbal Lineage System, 1996-1999
NADA Detoxification Protocol, Terry Oleson PhD, 1996