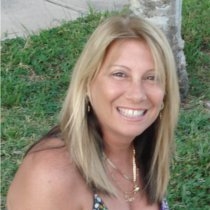 Trina E.
Massage Therapist "LMT"
"I encourage all of my clients to make taking care of themselves a priority," says Trina Elson, licensed massage therapist and owner of teMassage in Stuart, Fla. "We deal with accident victims and injured clients. We also offer spa techniques. If you want to feel better, we are here for you."
"Regular massage sessions can boost your metabolic rate—jolting it to burn fat faster," explains Trina. She also says that massage can be helpful for clients whose aches and pains have turned them into couch potatoes. "A massage regimen can reduce muscle soreness by removing toxins, such as lactic acid, that can build up and cause pain."
In addition, Trina recently added facials, ionic foot detoxing, and hair replacement therapy to her menu of services. "Clients can now enjoy taking care of themselves in a one-stop massage center!" she says.
Trina believes there is nothing more rewarding than transforming "a client who is in pain into a client who feels 100 percent better." She's also clear about her reason for joining the massage field: "I love helping people!" she says.
---
Professional License
MA 55754
Certifications
Florida Board of Massage Therapy
Specialized Training
MedVance Institute, Stuart, FL
Certified in Neck and Shoulder Injuries, Ben Benjamin
Trained and Certified in TMJ