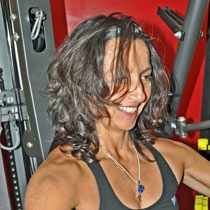 Cathleen B.
Personal Trainer "CPT"
In today's digital world, clients expect immediate access. Cathleen Bucio, a certified personal trainer with a private studio, offers her clients online wellness portals to stay on track—they can easily monitor meals and workout programs with the touch of a button.
Specializing in functional training and athletic performance enhancement, Cathleen offers one-on-one training using a variety of equipment, from resistance bands to body weight and free weights. Starting with a fitness assessment, she develops personalized programs to address each client's needs. At her private studio, exercises run the gamut, from flexibility and balance to circuit and core training.
Over the years, Cathleen has helped hundreds of individuals recover from and rehabilitate after sports injuries through corrective exercise and strength training. Formerly with the U.S. Navy, she is experienced with training personnel from all military branches as well as elite athletes. However, she is not into yelling at clients like a drill Sargent, getting them motivated with barks and commands. Instead, she offers a smile, praise, laughter and encouraging words.
"I believe in them," Cathleen says. "I tell them they can."
As a certified fitness instructor, Cathleen has taught large focused classes, including yoga and Pilates. Participants come from all ages and fitness levels. Her advice to someone, whether a newbie or an exercise veteran, is to stay with the program because results will be achieved.
"I teach my clients that your body can be changed," she says. "It takes focus and determination, even just a few minutes a day." To help with those results, Cathleen offers instruction on proper form and technique, including good posture and correct breathing.
---
Professional License
Certifications: 1374761
Certifications
National Academy of Sports Medicine (NASM)
Specialized Training
ISSA Certified Personal Trainer and Conditioning Specialist, 2008