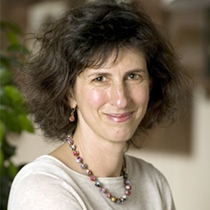 Ellen G.
Acupuncturist "LAc"
At Pearl Natural Health in Portland, Ore., Ellen Goldsmith is dedicated to providing homeopathic health care to individuals of all ages. A co-founder, Ellen combines acupuncture, dietary therapy, Chinese herbs and stress-reduction techniques to treat clients suffering from a wide range of disorders and conditions.
Ellen, a former dancer in New York City, previously taught wellness to drama students at New York University's Experimental Theater Wing in Manhattan. "I am a New Yorker through and through," Ellen says. "I was exposed to a rich diversity of cultural resources and I know this influences everything I do."
Ellen's interest in Traditional Chinese Medicine was sparked by the enormous impact it had on her own health and perspective on the world. Wanting to share what she considers "an effective and profound type of healing," she studied at the National College of Natural Medicine, earned a diplomate in Chinese herbology after studying with masters in China, and became certified in shiatsu.
"I love working with change and motivating people to move towards their dream," Ellen says.
Working along with a naturopathic physician at Pearl Natural Health, Ellen provides integrative care after assessing a client's history and health goals. She sees many clients suffering from musculoskeletal pain and disorders resulting from too much stress. "We evaluate, treat and seek results not only from symptoms but improved health and wellness," she says.
---
Professional License
OR AC00442
Certifications
National Certification Commission for Acupuncture and Oriental Medicine
Oregon Board of Medical Examiners