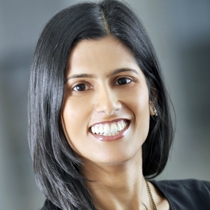 Sejal S.
Dermatologist
"The skin is one of the first things we notice about each other, and having dermatological issues can have a strong impact on how people feel about themselves," Dr. Shah says. "Being able to treat such people and help them feel more confident in their lives and interactions with other people is the best thing about my job."
Dr. Shah is not interested in seeing as many patients as possible in a day or making anyone feel rushed. She purposely takes her time, treating each person with a high level of attention and care. As she says, each client is different, requiring appropriate treatment for a particular condition.
Dr. Shah is affiliated with Schweiger Dermatology and the Bernstein Medical Center for Hair Restoration, both in New York City. She is a summa cum laude graduate of the University of South Alabama and earned her medical degree from the Mount Sinai School of Medicine in New York.
---
Certifications
American Board of Dermatology