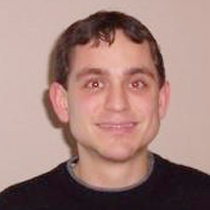 Jon T.
Massage Therapist "LMT, NCTMB"
Through his work as an in-home caregiver, Jon Tallerico discovered an avid desire to help others find freedom from pain, going on to become a state licensed and nationally certified massage therapist.
Jon is a graduate of the Professional Massage Training Center and has worked full-time as a massage therapist in Springfield, Mo. since 2009. He is certified in Precision Neuromuscular Therapy (PNMT) and Myoskeletal Alignment Technique, and encourages his clients to take an active role in their health and well-being by eliminating that all too common feeling of helplessness that can accompany physical and mental anguish.
With Jon, there are no products, "miracle cures" or unnecessary treatment recommendations. "I advise my clients to accept that there are always other options and different approaches to quell their discomfort," he says. Patients appreciate Jon's honesty, the effectiveness of his work and the fact that Jon gives them choices—factors that allow them to take control of their condition, whether back, head, neck or shoulder ache.
Jon's simple and straight-forward approach to bodywork and health care can be found at his private studio, Valence Massage Therapy, in East Springfield. There, he applies his extensive background and multi-disciplined education to help patients "reduce pain, improve function and live better."
---
Professional License
NCMTMB #551358-08
LMT Mo. #2007004680
Certifications
Missouri State Board of Therapeutic Massage
National Certification Board for Therapeutic Massage and Bodywork
Specialized Training
Professional Massage Training Center, 2008 (Nationally Certified in Therapeutic Massage)
Precision Neuromuscular Therapy, 2011
Myoskeletal Alignment, 2011
Hot Stone Therapy, 2010