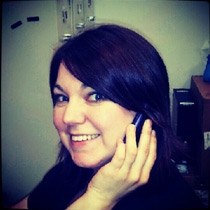 Micah M.
Massage Therapist "CMT"
Certified massage therapist Micah Mays is the owner and operator of Beyond Massage in Norman, Okla. Her practice combines over 10 years of experience with an intense love of massage therapy.
"I live for massage. I do this from the time I wake until I go to sleep," Micah says. As both a practitioner and instructor, Micah's passion is apparent, and her clients appreciate this commitment to their relaxation and recovery.
One of the most important things Micah teaches her clients is that the area experiencing pain may not be the area from which the pain originates. She believes it's important for clients to know and understand the habits and physical patterns that may be contributing to their pain, and to learn new habits and patterns that can reverse the damage.
Micah's dedication to total, informed care extends beyond human clientele. One of her pets is the lucky recipient of regular "puppy massage." "Even animals understand the benefits of massage therapy!" Micah says.
---
Professional License
546875-07
Certifications
National Certification Board for Therapeutic Massage and Bodywork
Specialized Training
Arizona School of Massage Therapy, Therapeutic Massage, 2001