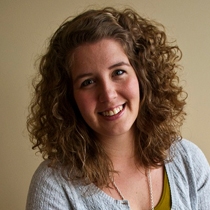 Carrie E.
Massage Therapist "LMT"
Midwest native Carrie Eckermann relishes being able relieve chronic muscle tension, whether caused by physical trauma, mental stress or unconscious stressors. After identifying the issue, Carrie works closely with clients to figure out the best route for getting rid of and preventing the recurrence of this tension.
Carrie's interest in massage can be traced back to her childhood. Born and raised in Des Moines, Iowa, Carrie recalls rubbing her father's tired feet each night when he returned home from work. This desire to facilitate pain relief through the power of touch transferred into adulthood, fueling her decision to pursue a massage therapy degree from the Eastwind School in Iowa City.
Today, the success of Carrie's work relies on her holistic approach to health and wellness. "I take the entirety of the individual in to account when coming up with a treatment," she explains. How? By asking lots of questions and receiving honest answers.
A licensed massage therapist, Carrie believes that massage should be made accessible to anyone who needs it, and that bodywork can markedly improve the quality of a person's life. She says, "Everyone deserves to love themselves and their bodies. Massage is one of many ways to express that."
What to Expect
Total client confidence. Clients are asked to disrobe to their comfort level and are positioned on the massage table beneath a sheet. Carrie will only uncover the part of the body being worked on, a technique known as draping. For example, if she is working on the left leg, she will pull back the sheet to uncover only the left leg.
---
Professional License
005436
Certifications
Iowa Board of Massage Therapy Examiners
Specialized Training
Eastwind Massage Therapy School