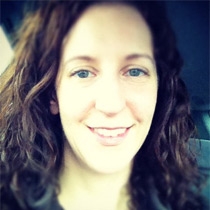 Megan B.
Massage Therapist "CMT, LMT"
---
Licensed massage therapist and self-professed massage "nerd" Megan Belanger is passionate about the human body. "Fascia is the coolest tissue in our bodies!" she says. "It's now considered a key player in posture and movement, maybe even more."
A graduate of Cortiva Institute, Megan views massage as both a science and a fluid, intuitive art. During her sessions, Megan works to help interrupt her clients' stress cycle, facilitate increased body awareness, and provide focused touch therapy to both overworked and underutilized areas of the body. "I want to promote feelings of overall relaxation, restoration and well-being," she says.
Megan is dedicated to educating her clients about how bodywork and movement can incite positive change in their lives, and about society's innate need for therapeutic touch. "This is especially important for individuals suffering from chronic illness and pain," she says.
Megan has taken additional coursework in oncology massage and Reiki, is certified in massage therapy for lymphedema, and is a participant in the Abbot Road Project, an organization that provides no-cost oncology massage to patients undergoing cancer treatments.
"Taking the time to regain awareness of your body and quieting your mind can make so much difference," Megan says. "Let me be part of your total health picture."