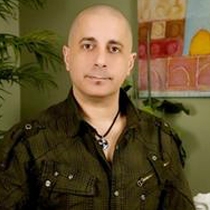 Larry J.
Massage Therapist "LMT, NCTMB"
---
"My vision is to make a difference in my clients' lives through the art of touch," says Larry Joyner, a licensed massage therapist, certified Reiki practitioner and energy work healer. "I provide care for the mind, body and spirit. I treat the body as one."
Larry, who has completed more than 1,400 hours of training, specializes in treating clients for stress and chronic fatigue, with a focus on their emotional well-being as well as illness prevention. Using a variety of massage modalities, Larry seeks to decrease clients' anxiety, enhance their sleep quality, improve their concentration, and increase their circulation.
Reiki, Larry believes, is one of the best treatments for stress and pain relief. Meaning "universal life-force energy," Reiki is a scientific method of activating and balancing the life force present in all living things. Reiki practitioners use light hand placements to channel healing energies to organs and glands or to align the chakras (energy centers).
Larry says: "I honor the place in you where spirit lives. I honor the place in you which is of love, of truth, of light and of peace. When you are in that place in you, and I am in that place in me, then we are truly one."