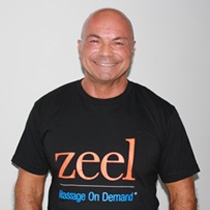 John M.
Massage Therapist "LMT"
British born licensed massage therapist John has been a practicing bodyworker since 2004, winning clients over with his laid-back attitude, pleasant demeanor and professional business ethics. A lifelong health enthusiast and a former corporate executive, John is familiar with the time pressures of everyday life and does his best to accommodate his clients, whether their goals are relaxation, pain elimination, or fitness.
John is accredited by the National Certification Board for Therapeutic Massage and Bodywork and completed his training both in Britain and the US. He understands the personal nature of a massage and aims to customize the session to meet individual health needs. His sessions are geared toward achieving relaxation and wellbeing while bringing attention to aches and soreness. Trained in many massage modalities, he primarily employs a firm stroke suited to eliminating pain from the body.
---
Professional License
FL license MA51123
Certifications
Florida Board of Massage Therapy
National Certification Board for Therapeutic Massage and Bodywork
Specialized Training
Palm Beach Academy of Health and Beauty, Palm Beach, FL