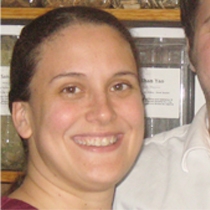 Crystal D.
Acupuncturist "LAc, MSTOM"
Experience the four pillars of Traditional Chinese Medicine with Crystal Dmytryk, a licensed acupuncturist with practices in New York City and Hartsdale, N.Y. who uses a multitude of eastern medicine techniques to heal her patients.
To Crystal, the most exciting aspect of Traditional Chinese Medicine is the opportunity to continue learning and growing by seeking mastery in the field of acupuncture. After earning her master's degree in Oriental Medicine from the Pacific College of Oriental Medicine, she went on to complete a certificate of study from the Institute of Classical Asian Studies (ICAS) in medical qi gong and kyo jung, a form of Korean physical therapy.
With Crystal, acupuncture is just the beginning. Versed in a number of eastern methods, sessions with Crystal are rooted in the four pillars of Traditional Chinese Medicine: acupuncture and moxibustion, herbs and nutrition, physical manipulation and medical qi gong.
Crystal, who aims to continually grow as a practitioner, has studied with a bevy of experts, including pathophysiology with Dr. Steven Jackowicz, advanced qi gong techniques with Master YuanMing Zhang, the use of the Dao De Jing in modern psychology with Dr. Lu Xichen and Korean moxa therapy with Master Kim. Her knowledge of the mind and body, and the synergy between them, can effectively treat a variety of physical and emotional concerns for improved health and well-being.
---
Professional License
NCCAOM Certified
State License #4451
Certifications
National Certification Commission for Acupuncture and Oriental Medicine
New York Division of Professional Licensing Services
Specialized Training
Mary-Elizabeth Wakefield's Constitutional Acupuncture Facial Rejuvenation
Institute of Classical Asian Studies