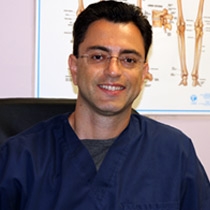 Aleksander K.
Chiropractor "DC"
Licensed chiropractor Dr. Aleksander Kanevsky blends conventional and alternative techniques in order to combat pain, restore function and maintain a well-balanced lifestyle. His unique approach elicits immediate physical response that alleviates pain and promotes fast recovery.
"The best chiropractic services are based on a friendly, mutual understanding between a doctor and a patient," says Dr. Kanevsky. "I work together with my patients to bring them the highest quality chiropractic and integrative care."
Dr. Kanevsky takes a holistic approach to therapy, with the belief that the body is a self-healing organism with power to naturally resist disease. "I treat the causes rather than the symptoms," he says. To do so, Dr. Kanevsky draws on his extensive training and experience, which includes incorporating principles of BioEnergetic medicine by utilizing the ASYRA® system to evaluate and invent solutions for numerous health related issues through the creation of personal treatment plans.
Through various forms of chiropractic therapy combined with rehabilitative care and nutritional supplements, Dr. Kanevsky has developed unique and effective techniques for treating many forms of musculoskeletal disorders. "My mission is my patient's success in reaching their optimal health," he says. "The major keys are professional chiropractic care, individually developed treatment programs, nutritional advice and modification of an unhealthy lifestyle."
---
Professional License
X009212
Certifications
New York State Board of Chiropractic