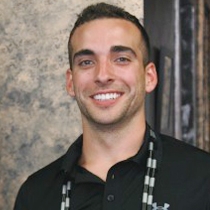 Gregory D.
Personal Trainer "CPT"
Certified personal trainer Gregory Doyle founded DoyleNYC to offer premier fitness training to clients in Manhattan.
"My training philosophy is simple: hard work, consistency and efficiency," says Greg. "Workouts should be as efficient as possible. That's why I also offer shorter yet more intense sessions for those who want great results in less time."
Greg, who has over five years of experience as a trainer in corporate fitness and cardiac rehabilitation, now offers sessions in the convenience of clients' homes or fitness centers all over Manhattan. "I combined the latest research and training techniques to get clients where they want to be faster: lean, sculpted and with perfect posture," Greg says.
In addition, Greg offers pre-event training, for weddings or parties, geared to get clients in the best shape of their lives for their special day. He is also a nutrition expert and helps clients learn about how to shop and what to eat to enhance and maintain their results.
"Everything I do is done efficiently and completely customized for the client. Every aspect of the workout is tailored to their needs and desired results," Greg says. "If you are serious about shedding fat, getting lean and strong, or running your first marathon, I will get you there."
---
Certifications
American College of Sports Medicine (ACSM)
Specialized Training
ACSM Certified Personal Trainer 2010
ACE Functional Training, 2011