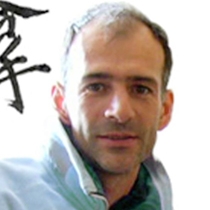 Fabio B.
Massage Therapist "CMT, LMT"
A state licensed and nationally certified massage therapist based in Christiansburg, Va., Fabio Botter utilizes his background and training in ancient Chinese therapies to craft individually tailored massages for total body health.
A graduate of the Ancestral Mountain School, Fabio utilizes the guiding principles of tui na massage as the foundation of his work. Tui na is a system of Chinese medical theories that address the body in a holistic manner, using unique integrative treatments that set it apart from all other medical sciences.
Tui na massage can address both internal disease and external injuries, Fabio explains. The process relies on a series of personalized manual therapies, along with deep tissue work, to structurally realign and address the meridians of the body. Another element that may be used is qigong, which incorporates breathing techniques and guided visualizations to facilitate healing.
What to Expect
Bodywork is performed on a floor mat. Clients can remain fully clothed and are advised to wear loose, comfortable clothing. As the practitioner works, clothing may be moved in order to expose areas where direct skin contact is needed. The client is given advanced warning before this occurs.
---
Professional License
NCBTMB Cert. #591670-10
Va. State Lic. #0019009237
Certifications
Virginia Board of Nursing
National Certification Board for Therapeutic Massage and Bodywork
Specialized Training
Ancestral Mountain Tuina School, 2009-2010