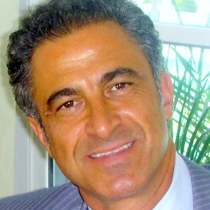 Sayel F.
Chiropractor "DC"
Owner of Family Chiropractic Wellness in Tarzana, Calif., Dr. Sayel Fakhoury grew up with the dream that one he day he would help people. In practice since 1990, this familiar and friendly face in the Valley is now known as "Dr. Sal."
It took an auto accident in 1984 to realize how the rest of his professional career would play out. Left with debilitating and frequent migraines, Dr. Fakhoury found himself listless and dealing with sudden allergies. Medications and doctor visits provided temporary relief but no permanent solutions.
Thinking that he would have to live with such pain and fatigue for the rest of his life, Dr. Fakhoury was about to give up, until someone suggested he see a chiropractor. Within one session, he felt relief; by the tenth adjustment, his headaches were gone and his energy had skyrocketed.
A graduate of the Southern California College of Chiropractic, Dr. Fakhoury now sees patients of all ages, suffering from a wide range of conditions and disorders. He uses the Insight Discovery Subluxation Station, a spinal nerve scan, to quickly identify stress points and monitor progress, working with patients to develop an appropriate program to improve their health and well-being. The technology was originally developed by NASA to evaluate the effects of space on astronauts.
---
Professional License
CA #20968
Certifications
California Board of Chiropractic Examiners