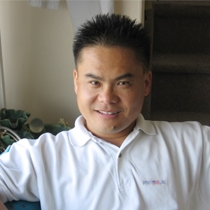 Jacob Z.
Acupuncturist "CA, LAc"
In the heart of a modern medical center on Oceanside's Long Beach Road, Dr. Jacob Zong offers traditional Chinese acupuncture. Clients in need of pain management appreciate the proximity to modern doctors, while enjoying the benefits of a 5,000-year-old practice.
Dr. Zong is so excited about acupuncture he could sing its praises. Actually, he lets someone else do the singing, although he promotes the song through a video available on his website. Set to the tune of Adam Sandler's Hanukkah Song, the fun ditty lists celebrities who use acupuncture for weight loss, anxiety and fertility.
Although the song may make Dr. Zong appear lighthearted and comical, he is actually quite serious about health and wellness. After graduating in 1992 from Xian Medical College in China, Dr. Zong began to practice modern medicine before converting back to traditional Chinese modalities. Prior to shifting his focus completely to acupuncture, he spent several years conducting scientific research, publishing almost a dozen essays.
Over the last 10 years, Dr. Zong has practiced acupuncture, helping hundreds of individuals, many who are referrals and long-time patients. He is the founder of JKB Acupuncture PC, where he utilizes a variety of techniques, from gua sha to qigong, to create a treatment plan based on the individual's needs and preferences.
---
Professional License
09933
Certifications
National Certification Commission for Acupuncture and Oriental Medicine