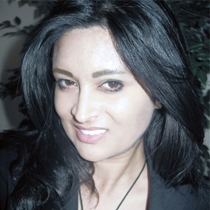 Mrinal B.
Cosmetic Dentist
Dr. Bhatt's unique, highly personalized approach to dentistry stems from a true commitment to patient comfort and satisfaction. "I was a patient before I became a dentist so I can relate to what it takes to make an appointment and sit in the dental chair."
A practicing dentist for over fifteen years, Dr. Bhatt welcomes patients who want to live healthier, happier lives—and have the smiles to prove it. "My patients have better things to do than worry about their teeth," she says.
Dr. Bhatt is motivated by her patients to constantly seek and master the latest in dental technology. "Patients nowadays want less invasive dentistry. They don't want all their teeth drilled into," she explains. With the wealth of technologies available today for teeth whitening and restoration, Dr. Bhatt is thrilled to offer the most advanced treatments in the industry.
At Trans Zen Dental, "artistry replaces mediocrity and confidence replaces uncertainty." Dr. Bhatt is able satisfy her patients' requests for the latest technology: implants instead of bridges, or non-surgical gum therapy as opposed to gum surgery. It's the comprehensive nature of general and cosmetic dentistry that makes her work so satisfying. Says Dr. Bhatt: "I love my work because dentistry is so dynamic."
What to Expect
Patients can expect serene décor and comfortable chairs and blankets, as well as cutting edge technology like silent electric drills and headphones that allow them to watch movies during their procedure. "It's no wonder some of our patients never want to leave!" Dr. Bhatt says.
---