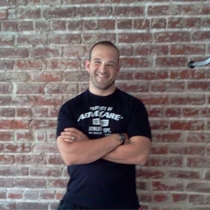 Andrew L.
Personal Trainer "CSCS, CPT, ISSA"
Every day, choices must be made, both big and small. Andrew Lee, a certified personal trainer with two locations in Richmond, Va., believes that health and fitness underscore every decision. When you are at your best, you make better choices, he says.
This is one sports fan who is not content to sit back and watch a game or two on television. Drew needs to participate, get outside and hike, bike, camp, fish and run. That sort of enthusiasm is evident when he trains clients, something he has been enjoying for more than 11 years. It doesn't matter what fitness background they come from, or what level of experience they have. Either way, they will walk away wanting to be more active and lead more fulfilling lives.
Clients who seek out Drew's services want to take control of their health, yet have little time to plan exercise routines. That is where he steps in, having worked with stay-at-home moms, busy executives and Olympic athletes, all looking to make big changes. His high-intensity sessions and nutritional advice combine to maximize results.
Just as he is a positive influence, Drew finds inspiration in the success stories of others. He enjoys reading motivational books and novels by the bestselling author Andy Andrews, all depicting hard work and determination while facing difficult choices. Health and fitness, he believes, is a cornerstone of going after what you want.
"If everyone worked out there would be much less disease, illness and reliance on prescription drugs in our world," Drew says. "Being that I started working at a fitness center at an early age, I was able to 'get it' early and make health and fitness a lifestyle for myself." However, it's never too late to begin a healthier life. Let that start today.
---
Certifications
National Strength and Conditioning Association (NSCA)