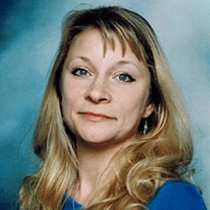 Christina W.
Massage Therapist "CMT, LMT"
"The human body is a miracle!" says licensed and nationally certified massage therapist, nutritionist and yoga instructor Christina Walker. "We have everything we need to heal and thrive within us."
Christina, who has been practicing massage in her home studio, Holistic Oasis, since 1994, believes that when clients allow themselves time and opportunity to heal from within, they also allow themselves to grow mentally, physically, emotionally and spiritually. Massage is an important part of this growth process, and Christina urges her clients to, "make time for a very special, wonderfully relaxing, and superbly rejuvenating experience."
Christina brings her diverse knowledge of bodywork, yoga and holistic nutrition to every individualized session. "The idea of 'holism' blends body, mind and spirit," Christina explains. "I love empowering each client to embrace their magnificence, and enjoy freedom from pain, increased mobility and greater vitality."
As a young girl, Christina traveled the globe with her family, and says that she brings this worldly experience to her massage and yoga teachings. She now splits her time between Doylestown, Pa. and Maui, Hawaii, and says it is her heartfelt passion to unite the two places on a personal and professional front.
Christina's dedication to her clients' emotional health is equally as strong as her commitment to their physical health. "Sometimes a few kind and true words is all it takes," she says. "Sometimes just allowing someone to relax and be who they are, without all of the stress of the outside world, helps them move to a healing place."
What to Expect
Christina practices out of her home office, and because she sets her own schedule, clients are never rushed in or out of their sessions. Her studio is Hawaiian themed, and she uses hot stone, hot towels, and Hawaiian Lomi Lomi to soften the body during each session. Christina is also available to travel to the client's home or office at their convenience.
---
Professional License
MSG003735
Certifications
Hawaii State Board of Massage Therapy
Pennsylvania State Board of Massage Therapy
National Certification Board for Therapeutic Massage and Bodywork
Specialized Training
Health Choices Institute and Holistic Massage School, Hillsborough, NJ
The Institute for Integrative Nutrition, Holistic Health and Nutritional Counselor Training, New York City, 2004
YogaLife Institute, Wayne, PA, 2005