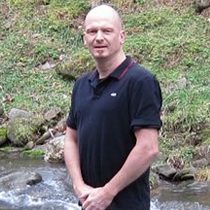 Roger B.
Massage Therapist "LMT"
Good health is reliant on so many of the habits we perform daily. Add massage into the mix, and you have a recipe for health. In fact, as Roger Bailey sees it, "You need to have regular massages for good health."
Roger is an independent, licensed and insured massage therapist based in Gatlinburg, Tenn. A graduate of the Georgia Career Institute, one of the top massage therapy schools in the state, Roger's professional training included 900 hours of study—which exceeds the 500 hours required by the state of Tennessee.
While relaxation is certainly an outcome of a true bodywork session, Roger also educates his clients on the therapeutic aspects of massage. It's not just about the effectiveness of a session, however; it's also about its efficiency. "I strive to make each client feel as relaxed as possible," describes Roger, adding, "and to see results as soon as possible."
High quality, therapeutic professional massages are as important to Roger as client satisfaction. He is the owner of RNRBodyworks Therapeutic Massage, a mobile bodywork service that allows clients to receive their massage in the comfort of their own home or while on vacation in the area. "Let me bring the relaxation of the spa to you," he says.
---
Professional License
TN9139
Certifications
Tennessee Board of Massage Licensure
Specialized Training
Georgia Career Institute, Murfreesboro Tennessee